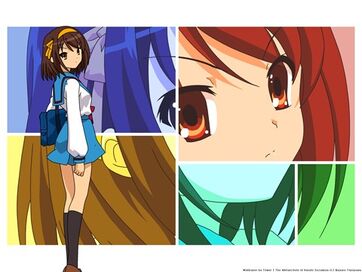 nazonazo mitai ni chikyuugi wo tokiakashitara minna de doko made mo ikeru ne
wakuwaku shitai to negainagara sugoshiteta yo kanaete kureta no wa dare nano?
jikan no hate made Boooon!!
WARP de LOOP na kono omoi wa
nani mo kamo wo makikonda souzou de asobou
aru hareta hi no koto mahou ijou no yukai ga kagirinaku furisosogu fukanou janai wa ashita mata au toki warainagara HUMMING ureshisa wo atsumeyou kantan nanda yo konna no oikakete ne tsukamaete mite ooki na yume & yume suki deshou?
iroiro yosou ga dekisou de dekinai mirai sore demo hitotsu dake wakaru yo
kirakira hikatte atsui kumo no ue wo kazaru hoshitachi ga kibou wo kureru to
jikan ni norou yo Byuuuuun! CHEAP de COOL na toshigoro da mon samishigaccha hazukashii yo nante ne iwasete
te to te wo tsunaidara mukau toko muteki desho kagayaita hitomi ni wa fukanou ga nai no ue dake miteiru to namida mo kawaichau "kawaritai!" kokoro kara tsuyoku omou hodo tsutawaru hashiridasu yo ushiro no hito mo oide yo dokidoki suru deshou?
Boooon!!